SERVICES
Recovering Value for the Earth
Since its founding, Showa Metal has grown through the rigorous rare metal scrap sorting and processing skills it has developed and the collection and sales network it has built around the global scrap industry market. Both advantages allow us to offer reliable value to our customers and to contribute to global environmental preservation through the recycling of resources.
We are proud of being a "processor" that breathes life back into rare metal scrap, helping to reinvigorate the quality of the earth.
VALUE CREATION PROCESS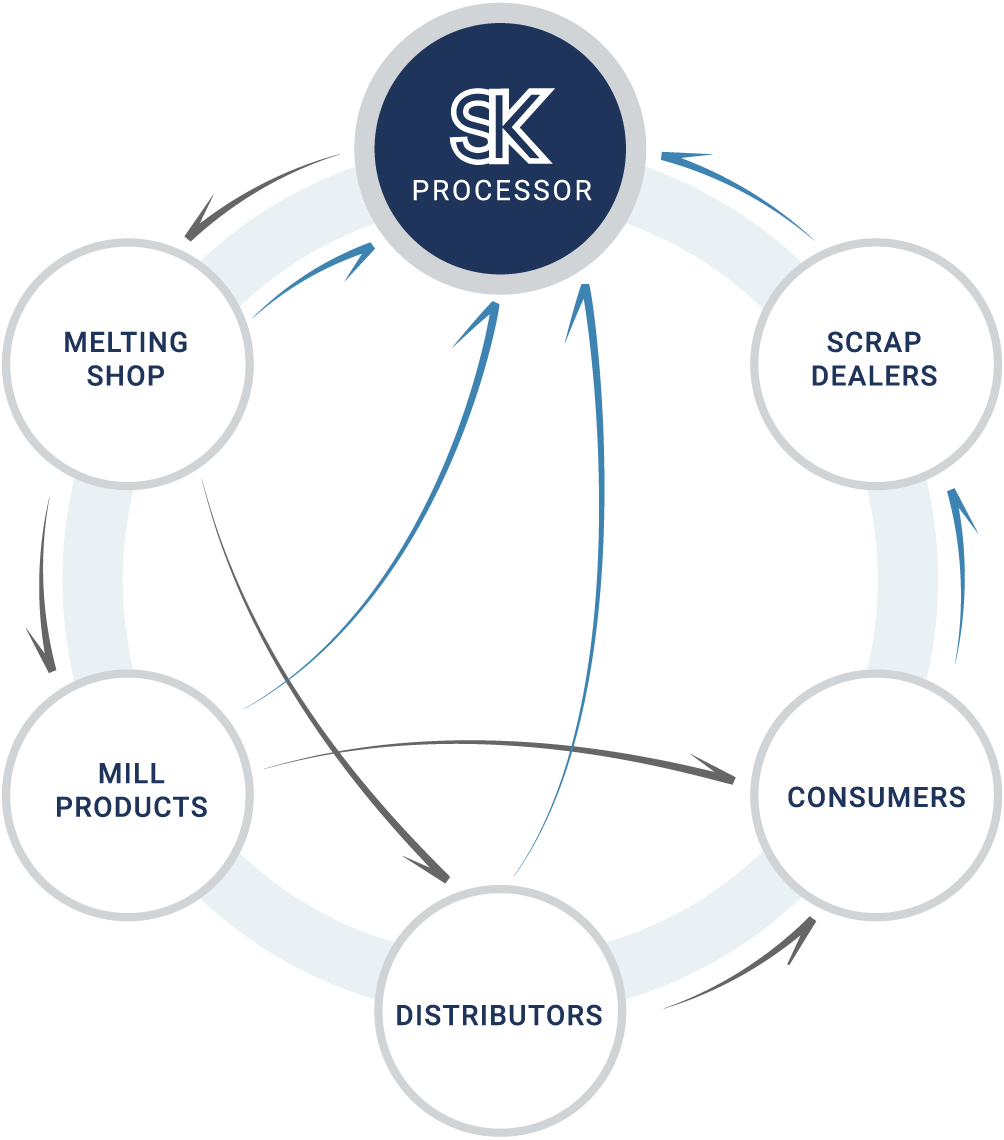 Related Industries
AEROSPACE

High-performance alloys that satisfy light weight, high strength, high toughness and heat resistance are often used in the aerospace industry. The raw material required must meet strictly controlled quality standards.

POWER PLANTS

High-temperature strength and high corrosion resistance are required for long-lasting durability even in harsh environments, and these specialty alloys comprise various sections of thermal and nuclear power plants.

PETROCHEMICAL PLANTS

High-performance alloys with strong corrosion resistance that can withstand corrosion due to various chemical substances and harsh environments are used.

SHIPBUILDING

Alloys that display strong corrosion resistance even when kept immersed in sea water and that also feature different properties such as wear resistance and high temperature resistance are used.

AUTOMOBILES

In order to respond to environmental regulations that have become increasin gly strict, many different kinds of special alloy castings have been developed to improve the efficiency of internal combustion engines and to reduce the weight of exhaust system parts that are required to have high heat resistance.
"On-site Mobility"-
adding value to scraps
Our Kawasaki Head Plant is collecting special alloys and rare metal scraps from domestic and overseas markets for special steel and super alloy producers, carrying out sorting and processing and executing quality checking, packing and shipping.
We have an environment where
teams can operate
flexibly
in order to suit every application.
The strength of the Kawasaki Head Plant is its ability to deal with any type of scrap, such as powder form scrap and scrap requiring dismantlement, irrespective of shape and size.
In addition, it has the flexibility to cope with any type of steel alloy. The quality level required by customers varies, depending on the purpose, but the plant can respond exactly to any of those needs. The location, which is easily accessible from major ports around Tokyo, Yokohama and the Tokyo Metropolitan Expressway in the bayside area, is perfect for scrap-handling operations and improves access to these services.
Our advanced capabilities
guarantee the quality of scrap
Titanium has a light specific gravity, high strength and high corrosion resistance that is better than any other major metal, and it is known as an excellent material found in various environments throughout the ocean and the earth. The Naoetsu Plant specializes in titanium scrap recycling and is proud of its unparalleled processing facility and the volume it is handling not only in Japan but throughout Asia.
The reason for our consistent high level of quality is
outstanding technical strength and strict quality control standards.
Titanium ingots, the source of titanium products, are melted in a vacuum furnace, and the scrap as raw material for titanium ingot manufacture must meet the quality standards for vacuum melting. The Naoetsu Plant features the advantages of advanced sorting skills and strict quality control. That is the source of its competitiveness.
FOR QUALITY
01

02

03

04

05

Processing

Cutting
Shot-Blasted
Washing
Blending

06

07